Most small business CEOs have plenty to worry about.  They need enough money coming in the door to cover their costs.  They need to ensure their service compares favorably to that of their competitors.  They also have to make sure their expenses are kept in check, and they aren't subjecting themselves to any risks that could jeopardize the company.  These are constant, urgent considerations that have to be balanced against the day-to-day responsibilities associated with running a company.
Urgent tasks can't get in front of important ones, however.  The most important task a CEO has is making sure they've got the right people in the right places, and those people are focused on the right things.
The right people have different characteristics at different companies.  A fantastic shop foreman isn't going to have the same traits as a fantastic firm administrator at a CPA office.  They will have one thing in common, however, and that's a positive attitude.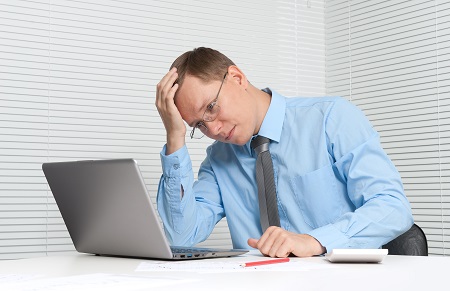 Negative attitudes are dangerous because they damage employee engagement.  Employee engagement doesn't come from an employee benefits plan, monthly birthday parties or a flexible work arrangement.  It comes from being surrounded by a team of people who know what they need to do to be successful and are motivated to do it.  People who can find the negative in any situation drag down engaged teams and engaged employees in staggering ways – ways that you may not have even considered before. And often, it only takes one employee with that type of attitude to destroy the morale of a team, or even the entire organization.
Gallup's State of the American Workplace finds that only 33% of US employees are engaged at work.  Fifty-one percent are unengaged – they're just there for the paycheck.  The remaining 16% are disengaged.
What is a 'disengaged' employee?  They are twice as likely to be looking for a new job, which may be easy for them to find in the current environment.  And you want them to find it quickly, because they're more likely to steal from the company, negatively influence their co-workers, miss workdays and drive customers away.  They are the negative people in your workplace.
These people may have tremendous skills – they might seem impossible to replace.  But when they've finally created enough trouble that you make the hard decision to let them go, you'll learn some amazing things.  You'll learn about problems that were never brought to your attention, because nobody wanted to cross the irreplaceable employee.  You'll find that everyone who had to interact with them is happier and more productive at work once they're gone.  Finally, if they were a manager, you'll find stability, because 50% of people leave their jobs because of their bosses.
It's important to note here that a disengaged employee or a person with a negative attitude doesn't describe a person who had a bad day, or is facing a challenging time in their lives.  Companies should show kindness and consideration to employees facing unique hardships.  Disengaged employees are incapable of finding motivation and satisfaction in their current position regardless of events outside of the workplace.  If they spread that perspective to other team members, then you will have trouble finding profitability and success as a CEO.  That's why maintaining a team without negative attitudes is among the most important jobs of CEOs at companies regardless of size or industry.
To learn how WingSwept can help your employee engagement efforts by keeping your employees productive and providing remarkable customer service, call us at 919.779.0954 or email us at Team_WingSwept@WingSwept.com.