What's More Important Than Money?
Depending on where your business is located in the Triangle, unemployment is somewhere between 2.8% (Cary and Apex) and 3.6% (Chapel Hill).  If you're like most executives, you're probably trying to figure out how to hire in this environment.  A 3% unemployment rate means that nearly all qualified prospects are already employed regardless of profession, so you're mostly hoping to coax a candidate who is already employed away from their current job.
You could try offering more than the going rate – but that's probably going to end badly.  If you already have employees performing similar work, you'll need to increase their salaries as well.  When your employees learn that a new hire is valued more highly than a loyal team member at your company (and they probably will), they'll quickly become someone else's new hire.
This decision is also hard to reverse.  It will lead to margin compression, which could easily become margin elimination if the economy does face headwinds in the coming years.
You could also try paying more for recruitment – creating better collateral, hiring a recruitment agency, or spending more time out of the office at job fairs.  But in this market, many of the people who end up being great fits aren't looking for a new job anyway, so they aren't going to see your collateral at a job fair.
When there are this few highly-qualified people available in the job market, relationships matter. And the most important relationships you can have are your relationships with your own employees.
Be an Asset to Your Employees
Do you think any of your business friends would recommend an average vendor to you if they were paid a large referral fee to do it?  Most wouldn't.  A relationship means more to most people than a short-term payout.  The only thing referral fees do is to keep the best vendors top of mind when other people mention needing a particular type of service.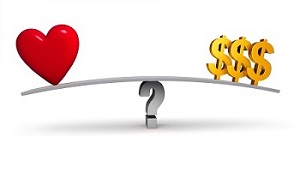 Job referral bonuses aren't any different.  If an employee thinks their job is average (or worse) most of them aren't going to recommend their employer to people they like and trust just to get a one-time payout.  If your employees think you're a fantastic employer, they'll probably tell any qualified friend to join them at work.  The finder's fee will magnify this effect, but it can't create it.
That's why it's important that you mean more to your employees than just a reliable paycheck.  They have to view your company as an asset to them – they need to believe that you provide balance of important benefits that most people aren't lucky enough to have.  To make a job referral, most employees only need to connect the dots between a friend or business acquaintance and your company also being an asset for each other.
Recognize That Your Employees Are an Asset to You
In 2017 Globoforce conducted a study with 2,700 US employees to figure out what really mattered to them.  The biggest finding from the study was what made people stay at their current jobs. You might think compensation was commonly cited as the #1 reason people stay in their jobs, and you'd be right.  But survey participants were 30% more likely to say the most important factor was that they found their work meaningful.
Don't think that your industry doesn't really attract people focused on 'meaningful work'.  You don't have to be running a non-profit focused on child hunger to make work meaningful.  In fact, this question wasn't asked in the context of Corporate Social Responsibility at all.  For work to have meaning, employees need to understand how their job impacts the company's ability to deliver great service to your customer, and how their work positively impacts their co-workers.
Here is a startling statistic: only 1 in 4 surveyed employees had been recognized for their contributions at work in the last month.  For a full-time worker, that's 160 (or more) hours of work without feeling like their contributions were truly noticed at any point.  In fact, sixteen percent of employees said they had never been recognized at work.
Employees who had been recognized in the last two years were more likely to say they loved their job, they were highly engaged, and they had a positive experience at work overall.  Unsurprisingly, they were also more likely to say they would recommend their company to a friend or colleague.
So, if you're looking for new employees, start by looking inside your company. Try to find ways to make your workplace an even more valuable asset for your current employees, and make sure they're being recognized for what they do to keep the machine that is your business running smoothly.  If you're successful, word will spread that your company is a great place to work, and your recruitment rate will increase with your employee morale.
To learn how WingSwept can help your business make better use of technology, call us at 919-779-0954 or email us at Team_WingSwept@WingSwept.com.