The numbers on what percentage of companies offer a year-end bonus aren't clear.  One study pegs the number at 63% of all businesses, while another says it's only 35% of small businesses.  Regardless, millions of people will be receiving year-end bonuses, and millions of those bonuses will be based on their contributions to the company.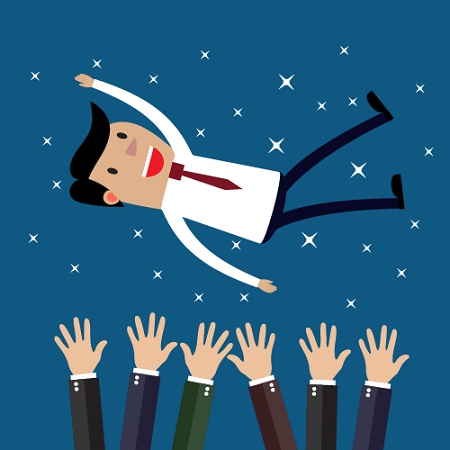 While these bonuses will certainly be appreciated, and in many cases employees worked hard to contribute to the company in return for those bonuses, they don't really count as "employee recognition."  Consider these facts:
    – These bonuses were expected, and employees consider them a part of their compensation.
    – Nobody went out of their way to 'recognize' employee contributions. They applied a formula.
    – These bonuses are often confidential, so their recognition isn't shared with their coworkers.
True employee recognition can be done much cheaper than this.  In fact, it can be free – it doesn't cost anything to send out an email to the company drawing attention to the recent unique contributions of a specific person and explaining how that hard work contributed to every single employee's paycheck.
It also has less downside: employees don't feel financially cheated if they don't receive as many paragraphs of recognition as they expected. Finally, the positive effects last for longer, because employees don't immediately start working towards their next recognition as soon as they receive their current one.
Of course, some employees would scoff at the idea that an email would engender as much goodwill as a year-end bonus if they were asked.  When asked another way, however, their answers tell us a lot about what truly motivates people.  A 2017 survey by Globoforce asked employees the top three reasons that they chose to stay at their current company.  The most common response was their job – specifically, that they found their work meaningful.  The second most common response was that they enjoyed the people they worked with.  The third most cited response was compensation.
Some companies have it easier than others in the 'meaningful work' category.  If you're an executive at a non-profit aiming to end world poverty, you probably don't need much advice on how to make the jobs of your employees more meaningful.  But for the rest of us?  There's not much that can make a job more meaningful than being told how our contributions to the company help keep everyone else productive – and keep everyone receiving a paycheck.
So if you're in the process of signing year-end bonus checks, please don't stop.  Your employees will no doubt appreciate the extra cash during a particularly expensive time of year.  But don't let that stop you from telling supervisors at your company to really shine the spotlight on those that would appreciate that attention when they deserve it.  And there's no reason to wait until December of 2019 to start!
To learn how WingSwept can help your company make better use of technology, call us at 919-779-0954.  To learn some of the "secrets" that helped us get recognized as a 2018 INC Best Workplace, email us at Team_WingSwept@WingSwept.com.