Every year Guidant Financial releases a study on small businesses in the United States.  This year's study found that the most common motivation for opening a businesses was that the owner was "Ready to be my own boss".  This outranked "Dissatisfaction with Corporate America" for the first time in four years.  It might not be immediately obvious, but this statistic is one of the most obvious reasons there is such a high rate of company failure.  Among other things, the failure has to do with employee engagement.
In the United States only 33% of workers describe themselves as "engaged" in the workplace.  Unengaged employees are less productive, less positive about the company, and more likely to leave for jobs at other companies.  In fact, 16% are "actively disengaged" – more likely to steal, negatively influence co-workers and miss workdays.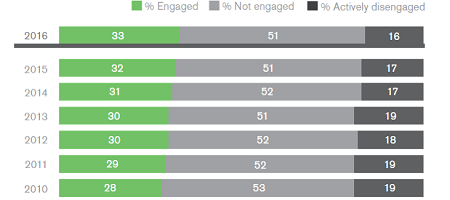 Employee engagement requires purpose.  They have to really believe what a company stands for, what they set out to accomplish each and every day.  When an entrepreneur starts a company with the mission of "Giving people the power to share and make the world more open" (Facebook) or "To help people around the world plan and have the perfect trip" (TripAdvisor), people go to work knowing how they're helping make lives better.
The problem is that employees really aren't motivated by "Our owner decided s/he was ready to start a business" or "Our CEO really didn't like working in Corporate America".  And while it's certainly possible that the companies built by people with these goals were organized to achieve a specific purpose, it's far from a guarantee.
The companies most likely to have a purpose are those that were started because the owner "Wanted to pursue my passion", which was the second most common motivation for opening a business this year.  These businesses owners weren't building a business to gain greater freedom or escape a suit and tie. These people were primarily motivated by the particular service they provide to their customers, and there's a good chance they are very focused on making it better and better every day.  These companies are more likely to succeed because they have a purpose that other employees can latch onto and believe in strongly.
The Five Characteristics of Purpose
A company with purpose has these five characteristics.
– The company's mission states a goal to improve a specific part of customers' lives, and defines the customer base will receive this benefit.
– Every employee can easily explain what their contribution is to the company achieving this goal.
– Employees are motivated not only by salary, benefits, and work environment, but also by the goal they are hired to help achieve.
– Success is measured not only in terms of profitability, but also in the company's progress towards their mission.
– The company rarely or never makes decisions that jeopardize its progress towards the mission in exchange for a short-term benefit.
Because the company's mission is centered on improving customers' lives, these characteristics ensure that a company remains customer-focused.  This protects the company from becoming too focused on profitability to serve its customers well.  It also helps front-line employees remain engaged, because they come to work every day knowing that success is measured by customer satisfaction, not by how much money can be extracted from them.  Finally, as long as your company can make lives better in a way that other companies cannot, profitability will follow.
To learn how WingSwept helps companies leverage technology to improve their business results, call us at 919.779.0954 or email us at Team_WingSwept@WingSwept.com.