Some business owners start out with lofty aspirations.  For many, however, the goal of starting a business instead of working at someone else's isn't a world-changing one.  Some owners don't enjoy working for someone else and want to try working for themselves.  Some have worked at a "successful" business and felt that they could do much better than the senior management there.  Other people just enjoy building things from scratch instead of following someone else's predefined processes.
In the early days of a business, the best goal is the one that gives you the motivation to get out of bed every morning and work longer than everyone else.  It's extremely hard to start a business.  It's especially hard once you start hiring people, because human resources becomes a major part of your business whether you want it to or not.
With perseverance and hard work, the company may eventually grow to the point where you don't have time to call all of the shots. You can't have weekly one-on-one meetings with each of your employees. Your managers start earning the authority to make important decisions themselves. It's right about this time that your personal goal stops mattering much.
You've got a successful small business. It's supporting your family and it's also supporting your employees, whose families are reliant on its success to support their own lives. But it could be doing even more. What do you want to do with it?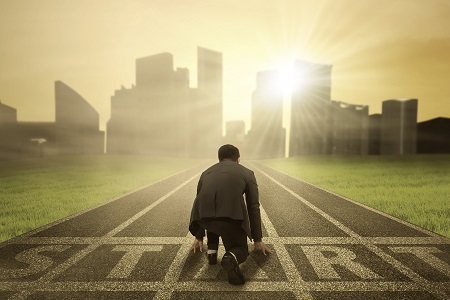 Do you want to keep it small, and use the company as a vehicle to contribute to your community?  Do you want to continue to grow it, and use that growth to provide growth opportunities for the employees who have been with you since the early days?  Do you want to use your company profits to support a social or religious cause that means a lot to you and your employees?
Most people don't just go to work to pay their bills. They want co-workers they like, work they enjoy, and the opportunity to grow. They want to contribute to their workplaces, but they also want their workplaces to contribute to them, and to causes they care about.
A recent Deloitte study found that Millennials were more interested in having a positive impact on their communities than having children and starting families.  Given that this generation is the largest component of the workforce, this is a critical factor in hiring and retaining great employees.
Customers also expect the businesses they support to do good – but if you're not careful, that can be a double-edged sword.  According to a study by Clutch, 71% think it's important for companies to take a stance of social movements, but 59% would stop shopping at a company that picked the "wrong" side of the issue.  Supporting your local community, however, is a winning proposition.  It's valued by 68% of the survey respondents, and who wouldn't support helping the local community?
Having an aspirational goal is motivating for ownership and leadership.  Having an aspirational goal that improves the community is even more motivating for both and can lead to more satisfied customers as well.  So if you own or run a mid-sized company, and you haven't decided how you want to use that company to impact the world around you, it's time to consider a goal that motivates not just company owners or leaders, but also the company's employees and customers.
To learn how WingSwept can help your company make better use of technology, call us at 919-460-7011 or email us at Team_WingSwept@WingSwept.com.