If you've ever searched on Google for a business, you've probably seen their business information show up to the right of the search results. As an example, searching for WingSwept returns the box below.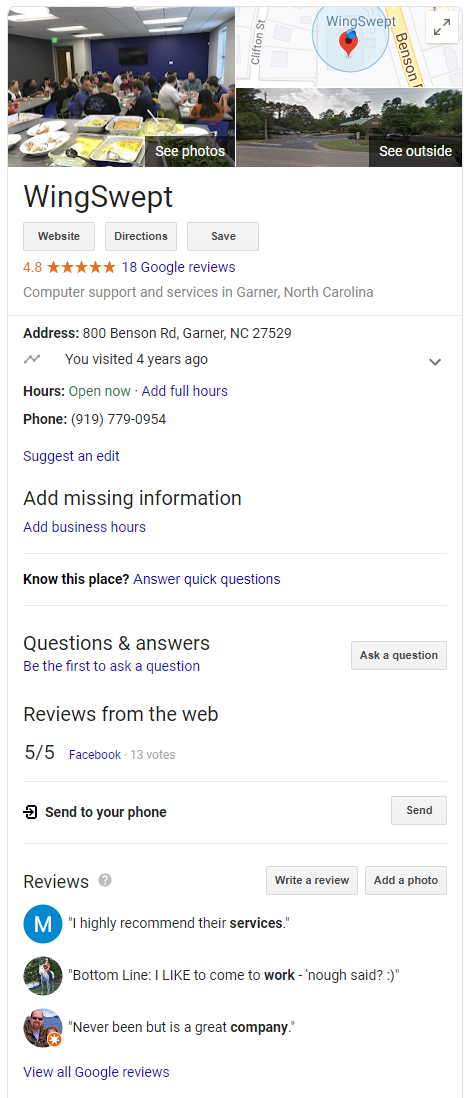 Google pulls this information from your Google My Business (GMB) profile.  Your GMB profile has your business address, hours, phone number, a link to your website, your Google Reviews, and a button to get directions to your business.  In order to claim your GMB profile, you'll have to prove your identity as the business owner (or a representative) first, but this is a quick and easy process.
Many people have become so used to seeing these GMB search results that they'll type a business's name into Google just to see this information. Because of this, your GMB profile serves as your online identity in many cases. Instead of visiting your website, some people will just call the number listed on the Google My Business profile.
Completing your business's GMB profile also makes you more likely to show up for any searches related to the services you provide for customers.  That's because Google has more confidence about the information they're providing to customers when that information is coming directly from the business owner.  When you put business hours into your GMB, for instance, Google can tell customers if you're closed, and they'll know not to expect anyone to pick up the phone.  Simply put, if you don't have a Google My Business profile for your company, spending 15 minutes completing one will provide a big boost to your search results over time.
Unfortunately, GMB can hurt you, too. If you don't reach out to Google and claim your GMB profile, anyone can add your business to GMB or make edits to the information Google has about your business. If Google doesn't know very much about you, they'll rely on whoever can provide information on where you are located, what you do, how to contact you, and when you're open.
This means someone could request an edit and list your business hours incorrectly. They could change your phone number. They can even change your website to somewhere unsafe, such as a phishing or ransomware website. All of this can do some serious damage to your business.
This is where the other important part of Google My Business comes in. Don't let anyone walk away with your online identity. If an employee has your GMB login information, make sure you get that information from them. Whenever you cancel services with a marketing vendor who manages your GMB profile, make sure you still have access to your profile. Losing your Google My Business login is a lot like losing your real identity; You won't be in control of the information online about your business, and that information is likely to become less accurate over time.
There's one other reason to keep up with this login.  If you can't locate it but need to update something on your profile, you may have to request that Google "reset" your profile so you can gain access.  If you ever do need to do this, there's a good chance Google will delete all of the information about the "old" business at that location.  Google wants to make sure that a person starting a new business isn't earning credit (or blame) associated with the last business at that address.  That means that all of your business information, pictures, and even reviews – all things that help you search well and get customers to reach out to you because of your GMB profile – are subject to deletion, and you'll be starting from scratch again.  If you've accumulated dozens of great reviews, this is a disaster you shouldn't have to experience.
To learn about how WingSwept's Managed IT Service Offering can help your business make better use of technology, call us at 919-779-0954 or email us at Team_WingSwept@WingSwept.com.