If you've ever searched on Google for a business, you've probably seen their business information show up to the right of the search results.  As an example, searching for WingSwept returns the box below.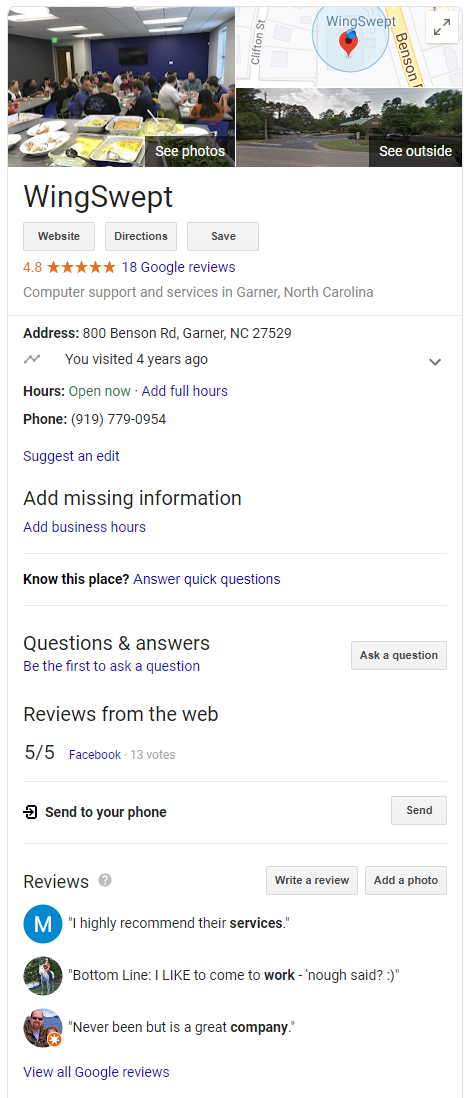 GMB, a platform used by Google to display business information directly on search results, has become a go-to source for potential customers seeking essential details about a business. This centralized hub displays crucial data including addresses, contact information, and business hours. Yet, this convenience can easily transform into a cybersecurity vulnerability.
The primary concern arises from the fact that control over GMB profiles can be easily compromised. Without proactive management, any individual can manipulate the information displayed, potentially causing significant harm. Incorrect business hours, altered contact details, or even the redirection of the website link to malicious sites such as phishing or ransomware platforms can inflict lasting damage on a business's reputation and operations.
Moreover, the risk amplifies when third parties, such as marketing vendors or former employees, retain access to the GMB profile. In these cases, a lack of oversight can lead to unauthorized changes and compromises to the business's online identity. Losing control over the GMB login credentials is akin to relinquishing control over one's online identity, with consequences ranging from inaccurate information dissemination to a gradual erosion of the business's online reputation.
Furthermore, businesses must be aware of the potential ramifications associated with the loss of access to their GMB profile. In the event of a lost login, Google may opt to 'reset' the profile, resulting in the deletion of all existing information linked to the business. This move is designed to prevent misleading or outdated information from persisting on the platform. However, it can prove catastrophic for businesses that have accumulated valuable reviews and vital business information, effectively resetting their online presence and erasing hard-earned credibility.
Consequently, it's imperative for businesses to take a proactive approach in securing their GMB profiles. Regular oversight, restricted access, and meticulous management of login credentials are essential to mitigate the risk of unauthorized modifications or access. Additionally, maintaining a backup of essential business data and periodically verifying the accuracy of information presented on the GMB platform is crucial to safeguarding the business's online reputation and customer trust.
In the contemporary digital landscape, where a strong online presence is pivotal for business success, understanding the cybersecurity implications of platforms like Google My Business is paramount. By prioritizing the protection of their online identities and diligently managing their GMB profiles, businesses can effectively fortify their digital defenses and maintain a resilient position in the virtual sphere.
To learn about how WingSwept's Managed IT Service Offering can help your business make better use of technology, call us at 919-779-0954 or email us at Team_WingSwept@WingSwept.com.