One of the most important jobs of a Managed IT Service Provider (MSP) is to minimize downtime.  Losing even a single workstation can easily cost a business more than a thousand dollars per day of idle time.  When a network outage strikes, or a major server faces a hardware failure, hours of downtime can have a significant impact on the bottom line.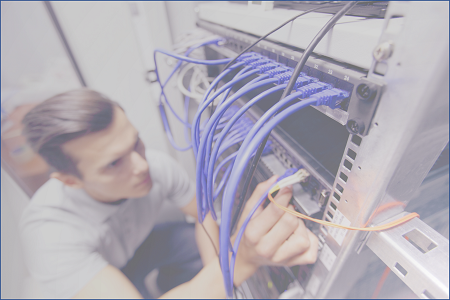 Unfortunately, technology failures happen to everyone.  Even the largest tech companies (who can afford to pay for massively redundant networks) can't prevent all outages. When cloud provider Fastly went down last month, sites like Amazon, Target and the UK government became unreachable.  Microsoft's Office 365 servers went down three times in 10 days last fall.
Every IT team is going to be stretched when products like Microsoft 365 go down for their entire user base (and the entire world), or when vulnerability disclosures force services offline until they're patched.  But when you've got a major server down or have lost your network connection, your MSP should be able to provide resources that you likely wouldn't be able to deploy as quickly with only an in-house team.
That's why downtime is the best time to see what your MSP is really doing for you.  Here are three things to look for in your IT service provider's response when you're experiencing a significant outage.  If your provider is doing these things during an outage, the odds are good that they're doing a great job for you in other areas, too.  If they aren't, it might be time to request a technology assessment from someone else.
Assign Resources Quickly
When a major server goes down during the workday, or your internet connection lapses, you shouldn't need to call your Managed IT Service Provider to let them know.  Their network monitoring systems should detect the outage and alert them, and they should be working to resolve the issue within a few minutes of it arising.  If the issue can't be resolved remotely, someone should be dispatched quickly to put eyes on the malfunctioning device.
Have a Plan of Action
If your technology providers are serving you well, major outages aren't something you have to deal with very often.  But outages are a fairly common occurrence for most MSPs, because they have dozens of customers.
An operationally mature IT services provider shouldn't be fumbling aimlessly when these problems happen.  Your provider should be following a pre-defined process to identify the problem.  If it's a software problem, their engineers should work diligently to resolve it.  If it's a hardware malfunction or another service provider's fault, they should get in touch with them quickly to confirm a plan of resolution.  And if the problem will take days rather than hours to be resolved, they should have a stop-gap solution available to improve the situation until a long-term resolution is ready.
Be Ready to Implement Disaster Recovery
In a particularly bad scenario, businesses may temporarily lose access to critical business data.  Mission-critical data, however, should not be in serious jeopardy of being lost.  That's because your provider should have recommended and implemented a disaster recovery plan that includes immutable backups.
A failed drive may take some time to restore. A social engineering attack such as ransomware may take longer to overcome.  But if you've followed your provider's disaster recovery recommendations, your data backups should protect you from more than a day or two worth of lost data.  If your provider hasn't discussed this with you – especially given the tense cybersecurity environment we're all experiencing this year – it's time to have that discussion with someone else.
To learn how WingSwept can help your company prepare for technology failures and recover from them more quickly, call us at 919-460-7011 or email us at Team_WingSwept@WingSwept.com.