If you have an office with dozens of workstations, one question you've probably encountered is whether to maintain each workstation independently or to use a Virtualized Desktop Infrastructure, or VDI.  Generally, VDI uses thin clients, or cheaper network devices, to connect all VDI users to a server running the applications they need.  The server itself provides the processing power and most of the data storage used by employees.
If VDI is used in the right circumstances, the average user won't notice much difference compared to a traditional desktop, but it's much easier for IT staff to keep up with each user's hardware, software, and settings.  If it's used in the wrong circumstances, it can slow an office to a crawl, increase recurring costs and lead to recurring instances of downtime for the entire office.  Here are four questions to help you figure out if VDI makes sense for your office.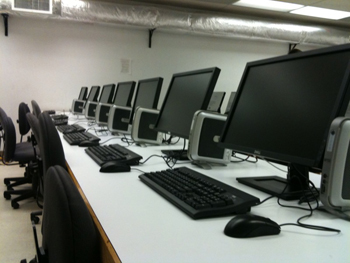 Do all of your users require the same applications?
The biggest benefits of VDI can be seen when everyone in your office could be served by only one or two configurations.  This means everyone relies on the same applications across the entire office.  If this is the case, your IT staff can install those one or two images on the VDI server and dramatically reduce the number of configurations they have to support.
If you have many groups of employees, each needing different sets of applications, VDI will likely cause you far more hassle than the time it will save.  Each of those sets of applications will need to be maintained independently, removing a major benefit of VDI
Are you confident in your IT support's planning and knowledge?
One of the biggest benefits of VDI is that it removes many instances of sporadic downtime.  When a thin client fails, you can simply replace it with a pre-imaged backup and be up and running 30 minutes later.  Applications are installed in one location rather than 40, so managing patching and updates takes far less time.
However, there is a tradeoff.  First, VDI is more complicated to manage than traditional networked computers – remember, you're serving potentially dozens of users on a single instance, so that does add complexity.  Second, if you don't plan correctly, any server problem can become a single point of failure for the entire office.  As annoying as it can be to have an employee without a computer while a new one is ordered and configured, it's a much bigger problem to have an entire office without computers.
Because of this, you need to be confident in your internal staff or managed service provider in order to consider a VDI solution.
Do your employees have online access wherever they need to work?
In order to access applications, VDI users will need to be able to access your network.  If you have employees that don't have great internet access everywhere they go, those users will probably need a laptop running applications locally, which will need to be managed independently of the VDI network.
Can you afford a substantial upfront cost?
Transitioning to a VDI will require a significant investment.   All users are running their applications over the network, meaning you'll need high quality components to ensure speed and reliability.  You'll also need to purchase a powerful server, licenses for all of your users to access it, and licenses for the other software running on the server.  Although the recurring costs of VDI are lower if properly managed, it will take years to break even on the investment.  The primary motivation for moving to a VDI should not be money savings in most cases.