Our Team Member Spotlight lets you learn more about the people behind the company and those employees that are on the other side of your PC or phone, working with you and your technology to help you reach your business objectives.
Meet: Calin Andrews, Systems Analyst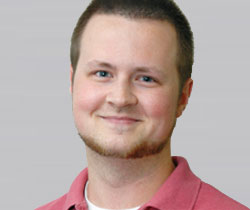 1. What is your role? – My role is to work the "frontlines" in regard to new tickets. I am part of the first line of defense when it comes to client technical issues.
2. When did you start working at WingSwept? May 5, 2014
3. When did you get your first computer? I was too young to remember the exact specs but my first computer was custom built by my cousin and had a whopping 100MHz processor (that was impressive at the time). Seeing the computer built from scratch is probably one of the main events that sparked a passion for electronics and technology.
4. What is your favorite technology? Anything Google.
5. What are your favorite activities on your days off? I enjoy spending time with my wife and two children during my free time.
6. What is your favorite thing to do? My favorite thing to do is to play with my kids and take them to events that are fun for them.
7. Mac or PC? PC
8. Before WingSwept, what was the most unusual/ interesting job you've had? I do not have a long list of employment history. I worked at Chick-fil-A through highschool and college (a total of about 8 years). I also worked as an intern at the City of Greenville IT department for 9 months.

9. If given the chance, who would you like to be for a day? Rick Sanchez
10. What has been your favorite IT project? Playing a part in the complete overhaul of a client's network including their servers and workstations was one of my favorites. There are so many moving parts in a project like that and it is fun to be part of the team that makes it go off without a hitch.
11. What do you enjoy most about working at WingSwept? The culture at WingSwept is like nothing I've ever seen before. It really does feel like a family. Everyone is willing to help and we are all knowledgeable as well which makes for an unstoppable team.
If you want to learn more about the WingSwept team, visit our meet the team page.