Our Team Member Spotlight lets you learn more about the people behind the company and those employees that are on the other side of your pc or phone, working with you and your technology to help you reach your business objectives.
Meet: Garrett Paquette, Systems Engineer III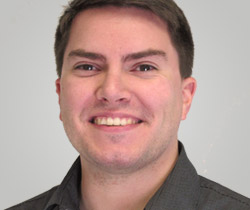 1. What is your role? Systems Engineer III with our Network Services Division. Being a third tier resource, of course, encompasses a broad range of subroles. A few of my current roles are that of onboarding new clients, resolving escalations, random soft dart attacks on unsuspecting coworkers, and miscellaneous assists throughout the day.
2. When did you start working at WingSwept? Originally from Alaska, the Orlando heat was slowly killing me. I let my last employer know I wanted to eventually move to the NC area. Sometime later he recommended me to the owner of WingSwept at a peer group meeting they both attended. That was four years ago. Still loving my job, coworkers, and NC. It does get hot sometimes, but at least we have wind and trees!
3. When did you get your first computer? Ahh… the Tandy 1000, now with 640K of EXTENDED memory in glorious beige! Sometime back in the late 80s/early 90s I remember playing Microsoft Flight Simulator (the first one). I got just over 1 FPS, which was especially hairy when trying to land IFR using a keyboard only without a manual. 3 frames could mean the difference between a perfectly lined up ILS w/ runway or somehow inverting my 747 and stalled. My PC experience has always revolved around gaming. Upgrading for gaming, troubleshooting speed issues for gaming, spending hours on the phone with Quantex tech support to get back to gaming. After a while I was able to repair my own issues and eventually found myself in the IT field.
4. What is your favorite technology? By far, the desktop PC.
5. What are your favorite activities on your days off? Shooting. PC gaming. Reading. Cooking. Studying the Word with friends. Driving around and discovering unique restaurants.
6. What is your favorite thing to do? Gaming with friends (PC/board/card/paintball/etc).
7. Mac or PC? PC ;o)
8. Before WingSwept, what was the most unusual/ interesting job you've had? NDT Technician based out of Prudhoe Bay, Alaska. I utilized radiography, and other techniques, to identify corrosion and weld issues in pressure vessels and piping. No, I don't glow in the dark… much.
9. What is the craziest thing on your bucket list? Nürburgring in a Koenigsegg One:1. More realistically… Nürburgring in an Porsche 911.
10. If given the chance, who would you like to be for a day? Myself, but with a holodeck to play in!
11. What has been your favorite IT project? Onboarding new clients is one of my favorite projects. It's challenging and rewarding to dive into an unseen environment (usually in some state of disrepair) and engineer solutions to best fit the client's goals.
12. What do you enjoy most about working at WingSwept? The work is always interesting, but it's the culture (driven by the mgmt and admin team) that really attracts (and retains!) so many good people.
If you want to learn more about the WingSwept team, visit our meet the team page.