Our Team Member Spotlight lets you learn more about the people behind the company and those employees that are on the other side of your pc or phone, working with you and your technology to help you reach your business objectives.
Meet: James Gallagher, Tier 2 Systems Analyst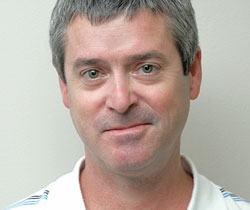 1. What is your role? Tier 2 Systems Analyst. That's a fancy way of saying I take broken things and make them better. Actually I work a lot in the background for our clients doing things to ensure stuff *doesn't* break. You will also regularly see me at client sites installing printers, workstations, hardware, etc.
2. How long have you been at WingSwept? 3.5 years
3. When did you get your first computer? First computer was a Commodore Vic-20. I know that's old! I taught myself how to type and basic (pun intended) programming. I soon reached the limits of what a Vic-20 could do, so I got a Commodore 64. I just kept pushing them until they weren't powerful enough to do what I liked most. Gaming! Once I got into PC's I was hooked. Of course no one knew how to fix them back then….so that's when I started figuring out how they worked.
4. What is your favorite technology? I love anything audio. I used to spend thousands and thousands of dollars on high end audio equipment and had an incredible setup in my home. Sigh, then kids. But that's okay because becoming a dad is my proudest moment.
5. What are your favorite activities on your days off? I like to play golf, but I don't get to very often. Me and the family go to a lot of movies on weekends. We like to travel a lot too. Vacations are usually to sunny places like the Bahamas or Mexico. We recently got back from a 2 week trip to India. That was fun!
6. What is your favorite thing to do? The perfect day would be sitting somewhere on a beach, with a floofy drink (complete with toothpick umbrella!), reading a good book, and my wife in the chair next to me, watching the kids swim in the ocean.
7. Mac or PC? PC
8. Before WingSwept, what was the most unusual/ interesting job you've had? I worked in a commercial wholesale nursery, where I was at various stages: the grower, the carpenter, the electrician, the plumber, the mechanic, the surveyor, the hr person, the IT administrator, the order puller, the truck loader, the truck driver, and any other hat you can think of! I wore them all for 22 years.
9. What is the craziest thing on your bucket list? I'd like to run a few laps in a Supercar (Ferrari, Lambo, Bugatti, NSX, whatever) on the Nurburgring Grand Prix race track. That would be fun!

10. If given the chance, who would you like to be for a day? I think I'd like to be Mr. Douglas, my cat. Man, has HE got it made living here!
11. What has been your favorite IT project? Tough call. They've all had good and bad pieces! Except one. The PC recap for one of our largest clients was pretty high up there. Deploying 13 desktops on site, by myself, in one morning, with no glitches, before 11am. When I got back from the client site, Jason asked me "What did you forget?" And I got to say "Nothing. I'm all done." (If I had known "drop the mic" would become a thing, I could have invented right then.)
12. What do you enjoy most about working at WingSwept? The people are awesome. I know everyone always says that, but it's true! But really, I just like figuring out how things work and then fixing them when they break. I never get up in the morning and say "Jeez I have to go to work today."
If you want to learn more about the WingSwept team, visit our meet the team page.