Our Team Member Spotlight lets you learn more about the people behind the company and those employees that are on the other side of your pc or phone, working with you and your technology to help you reach your business objectives.
Meet: Justin Worrell, Network Engineer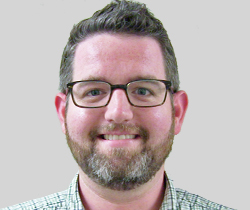 1. What is your role? While my formal title is Network Engineer, my primary role is Project Engineer, involved mostly in project planning, prep, and implementation.
2. When did you start working at WingSwept? July 2015
3. When did you get your first computer? I think the first family PC we had growing up was an IBM Aptiva running Windows 95. The computer itself wasn't really much to get excited about. It was dial-up internet that was mind-blowing.
4. What is your favorite technology? I've always been a big fan of virtualization, which is now ubiquitous. Cloud continues the same trend by adding layers of abstraction, facilitating greater flexibility. Cloud services like AWS allow buy-in at different levels (IaaS, PaaS, SaaS), lowering the barrier for companies to add desired technologies to enable their business.
5. What are your favorite activities on your days off? Spending time with my family, reading, and I usually have some side projects I'm working on- I'm currently doing some furniture refinishing.
6. What is your favorite thing to do? Learning and/or experiencing new things.
7. Mac or PC? It's less about Mac or PC and more about what you're doing with it and what you're expectations are. Both are inherently fine, but PC's aren't Macs; Macs aren't good PCs, in my opinion.
8. Before WingSwept, what was the most unusual/ interesting job you've had? I pollenated corn plants for Pioneer Seed Company for a few months as a teen.
9. What is the craziest thing on your bucket list? I don't really keep a bucket list, but I do have a desire to visit Iceland just to do it.
10. If given the chance, who would you like to be for a day? Tough to say…I think I'd like to be myself.
11. What has been your favorite IT project? Migrating servers from FL to NC over the WAN was a pretty fun project
12. What do you enjoy most about working at WingSwept? I like working in small teams and am able to see the direct impact of my contributions.
If you want to learn more about the WingSwept team, visit our meet the team page.