With hurricane Florence en route to North Carolina, people are getting nervous and planning ahead to take care of themselves and their family.  For company executives, however, there's an additional layer of stress.  How a company performs during the worst of times determines how well equipped it will be to succeed during the best of times – or whether it will survive at all.  In fact, according to FEMA, 75% of businesses without a continuity plan will fold within three years after they've been hit by a natural disaster.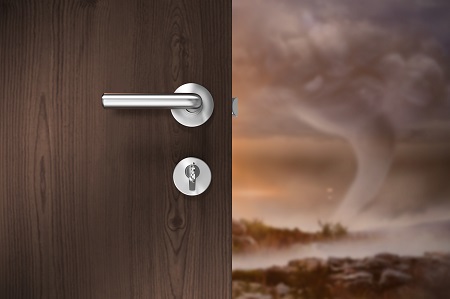 Supporting Your Company
One of the most important things you can do is to get all of your senior level staff on the same page.  If it's not possible to meet at the company's building due to flooding or trees down, how will communication be established?  If phones are down, what alternative location will you use for staging?
Beyond establishing communication with employees, you also need to restore your company to operational status.  If the telephones or computer network are inoperable (or, worse, flooded) what is the plan to re-establish connectivity and restore your company data?  Finally, if you have valuable equipment or merchandise, have you done what you can to protect it from water or structural damage, and documented ownership for insurance purposes?
Supporting Your Employees
The biggest obligation to your employees is not to unnecessarily put them in harm's way when they're on the job.  For sudden emergencies where the building's integrity is in jeopardy (such as tornadoes), do all employees know where the safest location in the building is?  Do you have a first-aid kit on-site to administer immediate aid?  Do you know how to turn off power and water to your building?
Employees should also understand how they are expected to perform work if they are off-site when a disaster that might impede driving occurs.  When is their presence in the office or at your facility expected, and when should they stay at home for their own safety?
Finally, if employees do face acute crises such as the loss of their home or severe injury to themselves or a loved one, what is your plan for assisting them in getting back on their feet?
Supporting Your Customers
The services you provide to your customers will have a major impact on how quickly you need to get back on your feet.  As a network technology company, for example, we must be prepared to help our own clients quickly recover from natural disasters, so it's particularly important that we have a disaster recovery plan to help us stay on our feet during natural disasters.  Anyone offering food, medical services, shelter or support for other vital services needs to be especially prepared to stay operational during disasters.
Ultimately, how well you are able to support your clients will depend on how well your company and its employees are supported.  Without employees, or a functional way for them to work, your customers will suffer as well.
Even if you aren't able to build a plan in time for hurricane Florence, it serves as a great reminder of just how important a plan can be if your business gets unlucky.  Ready.gov offers plan toolkits for a variety of natural disasters – take a look at them to safeguard your own business!
To learn how WingSwept supports its clients through good times and bad, call us at 919-779-0954 or email us at Team_WingSwept@WingSwept.com.