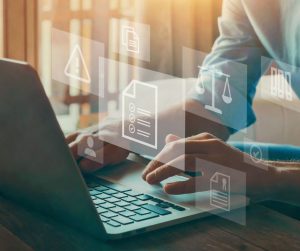 Federal, state, and local regulations are constantly changing and are affecting business technology in significant ways. In the world of increased digital information, data leaks, and evolving threats to data, regulatory bodies have placed a microscope on business practices and information technology.  Noncompliance with industry regulations can result in significant fines, loss of contracts, tarnished business reputation, and legal implications.  It is becoming increasingly important to ensure that you are aware of your business compliance needs, dedicate an individual(s) to manage compliance, and are taking steps to ensure compliance objectives are being met from a business and technology perspective.
Knowing Which Regulations Apply to Your Business
HIPAA, or the Health Insurance Portability and Accountability Act, is a common regulation that most individuals are familiar with when visiting a medical practice.  HIPAA was established to simplify, standardize, and establish healthcare industry processes.  Since its creation, the regulation has evolved to include five rules (Privacy, Security, Breach Notification, Omnibus, and Enforcement) to safeguard Protected Health Information (PHI) and electronic Protected Health Information (ePHI).  Establishing business and technical practices to adhere to HIPAA requirements is not an easy endeavor and requires careful consideration between the business and their IT teams or managed service provider.
There are many other compliance laws that businesses should be aware of.  PCI-DSS, the Payment Card Industry Data Security Standard has rules that apply to any business that stores electronic or paper-based credit card information.  Gramm-Leach-Bliley Act (GLBA) or the Financial Services Modernization Act of 1999 regulates how financial services companies protect their clients' private data.  Family Educational Rights and Privacy Act (FERPA) protects students' records for any school or organization that receives funding from the U.S. Department of Education.  Government contractors working with the Department of Defense have a series of rules enacted by the Defense Federal Acquisition Regulation Supplemental (DFARS) that require them to adhere to the NIST 800-171 standard to protect Federal Contract Information (FCI) and Controlled Unclassified Information (CUI).  Many states have enacted consumer data privacy laws that protect and regulate how organizations collect, use, store, share, and protect consumer information.  The list of laws and regulations can sometime seem endless.
Minimize Risk and Increase Focus on Compliance
Understanding your industry and the compliance regulations that apply to your organization is not an easy task.  We understand you have a business to run, and compliance may seem like a distraction.  Unfortunately, the consequences of noncompliance may result in fines, loss of clients, and the very business you are operating.
Many of the regulations are rooted in best practices.  There are many process, policy, and technical challenges to overcome to achieve operational compliance for the requirements established under these regulations. We would welcome the opportunity to partner with you to achieve compliance and help protect everything you have built.