Inc. Magazine recently announced their annual list of the 5,000 fastest-growing private companies in America and we are excited to say that we made the list for the sixth consecutive year. In fact, our rank of 3662 is a significant jump up from our 2015 rank of 4382.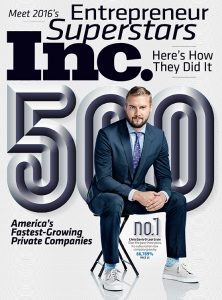 In the introduction to the 2016 list on the Inc. website, they write "The 2016 Inc. 5000 are the superheroes of the U.S. economy. America's fastest-growing private companies wield powers like strategy, service, and innovation." At WingSwept, we like to apply those three super powers to helping our clients leverage technology to achieve their business goals, whether they are to grow their business, increase efficiency, minimize risk or all of the above.
Within the last month we've been recognized on the Inc. 5000 list and been chosen for the fourth year in a row as one of Triangle Business Journal's Best Places to Work. As the word has gotten out about the high level of quality, remarkable service, excellent people and special culture that defines WingSwept, our growth has accelerated.
We especially appreciate our customers, without whom none of this would be possible.
If you'd like to find out what it's like to work with one of the most highly-decorated IT services firms in the Triangle, please give us a call at 919-779-0954 or visit our Managed Services page.
If you're interested in working for one of the most highly-decorated IT services firms in the Triangle, please visit our Careers page or learn more about what makes WingSwept a great place to work.